Our Venue, Ceremony, Reception & Activity Sites
Our variety of activity, ceremony and reception sites reflects our intention to offer full service options that can be tailored to fit your needs and desires.  Let us help guide you to the place best suited for your event.  No matter what location you choose, our beautiful mountain setting provides a picturesque backdrop for your special day.
The Carriage House Venue
This unique, two-story structure offers seating for 50+ in chair rows or 40 at round tables providing a variety of choices for your event.  The large west-facing barn doors allow the space to be combined with the Courtyard, Gazebo, and Labyrinth Garden. The location is equipped with three double-french doors allowing for an open-air feel and sweeping views of the natural surroundings.  For groups larger than 50, our Carriage House can be extended by adding a sturdy frame tent, complete with easily moveable sides for quick adaptation to all weather conditions.  Additionally, the Carriage House main floor offers a handicapped-accessible restroom, with two more restrooms located in the second floor along with two suites for brides and wedding party use and storage.
Our Main Lodge & Cabins
Our Guest Ranch's central location is our main lodge which offers many spaces for reunions and parties, as well as smaller elopement weddings and ceremonies.  With its spacious, south-facing porch and deck locations bathed in sunshine year-round to our shady backyard complete with horseshoe pits and hammocks, our lodge's outdoor spaces are relaxing and inviting. Add our beautifully decorated parlor complete with rock fireplace and rustic dining room, our adjacent Rec Barn with pool and foosball tables, chimenea and jacuzzi, you have so many choices for hosting for your gathering.
Woodside/Wyoming & Montana Cabins
As part of your destination event, our cabins provide yet another setting for your enjoyment. Our Montana Cabin, shown here, sleeps up to nine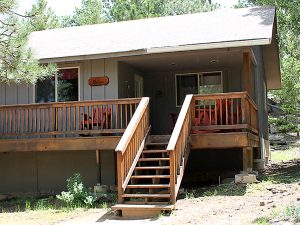 with two master-style bedrooms, each with its own full bathroom as well as a 3rd bedroom that sleeps four and a spacious sitting room that connects them all. Raise a 10×10 pop up tent in the front yard for a family bbq and explore the adjacent rock outcroppings and hiking trails right outside the front door. 
Our Woodside/Wyoming cabins offer another location with even more options for privacy coupled with family enjoyment. Combined, these cabins sleep up to eight in two distinct accommodations, each with their own decks, gorgeous views and special features. Or combine all three cabins for your gathering to make a multi-day mini vacation complete with tons of fun and activities.
Wedding Ceremony & Gathering Sites
Sprinkled around the ranch in several unique places, we furnish a multitude of locations to complement Weddings of all sizes, as well as Vow Renewals, picnics and many other events that wish to feature a gorgeous setting for gathering and togetherness.
Gazebo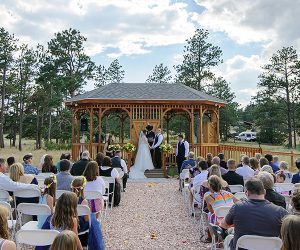 This raised, covered structure offers unparalleled, 365° views of the surrounding mountains, rolling pastures and our reflective pond. Within the gazebo can be accommodated up to 25 for smaller ceremonies, or with its large electrical capacity, it can host a large band or complete serving line for food service and catering.  As a ceremony site, seating can extend into the Courtyard for even the largest number of guests while maintaining its comfort and intimacy.
Courtyard
The Courtyard is an open, multi-purpose space with endless uses.  Offering amazing views of the surrounding areas and situated conveniently between the Gazebo and Carriage House, this flexible space can easily house tents or provide the ideal, open air venue for your next event.
Labyrinth Garden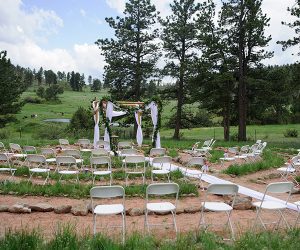 The contemplative nature of this garden, with its double-spiraled labyrinth, is the ideal space for meditative practices or unique wedding ceremonies.  With both east and west entrances, the wedding couple may enter from opposite sides and meet in the middle to complete their vows in a simple, but beautiful, open garden surrounded by the serenity of the Rocky Mountains.  Another feature is its closeness to our west pasture such that we can release our herd at the climax of your ceremony for a dramatic finale as the horses provide an exclusive backdrop for your guests to enjoy. Then end your ceremony to enjoy a good meal and celebration of your special day.  Our Labyrinth Garden combines natural wonder with convenience and accessibility, which makes it our most popular ceremony site and a fantastic locale for photo opportunities
The Pond's Shore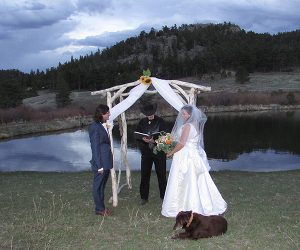 Just adjacent to the Carriage House and Courtyard is our picturesque Pond location if your dreams are of getting married at the water's edge. With easy accessibility and a fantastic backdrop of rock outcroppings, its perfect for every kind of ceremony.
Our Forest Setting
Located just west of the Carriage House and south of our Lodge is the Forest Setting for those who wish for a more secluded space tucked amongst the pines. While its just a short walk from the Carriage House, it is adjacent from our access road so guests with limited mobility can be delivered right to the site. Choose as your backdrop an ancient Ponderosa Pine or an appealing, lichen-covered boulder, this space accommodates large wedding parties and many guests in a shady and cozy location.
The Romantic Rock Outcrop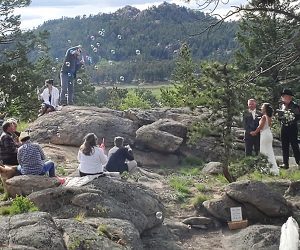 For the adventurous among us, our Romantic Rock Outcrop boasts a sense of remoteness while still maintaining reasonable accessibility. Ideal for smaller ceremonies, your guests may be arranged amongst charming granite formations in a variety of seating styles, above the forest trails with exceptional views of majestic hills bathed in western sunlight. Its a unique option with its own distinct appeal.